Rope Access
High Angle Rope Access Inspections
High Angle Rope Inspections
Corrosion Monitoring Services (CMS) offers high angle rope access inspections to assess difficult-to-reach or inaccessible areas. During a high angle inspection, CMS provides a highly trained inspector, supported by a team of world class professional rescuers. Our professionals have the field experience needed to recognize and identify hidden issues, such as process path, flue, or air ducts. We leverage the expertise of our rope access inspector's with the skills of leading professionals in the health and safety field to offer a complete and novel approach to support resolving some of the most difficult challenges faced by industrial plant operators charged with maintaining aging plant equipment exposed to some of the harshest environments imaginable.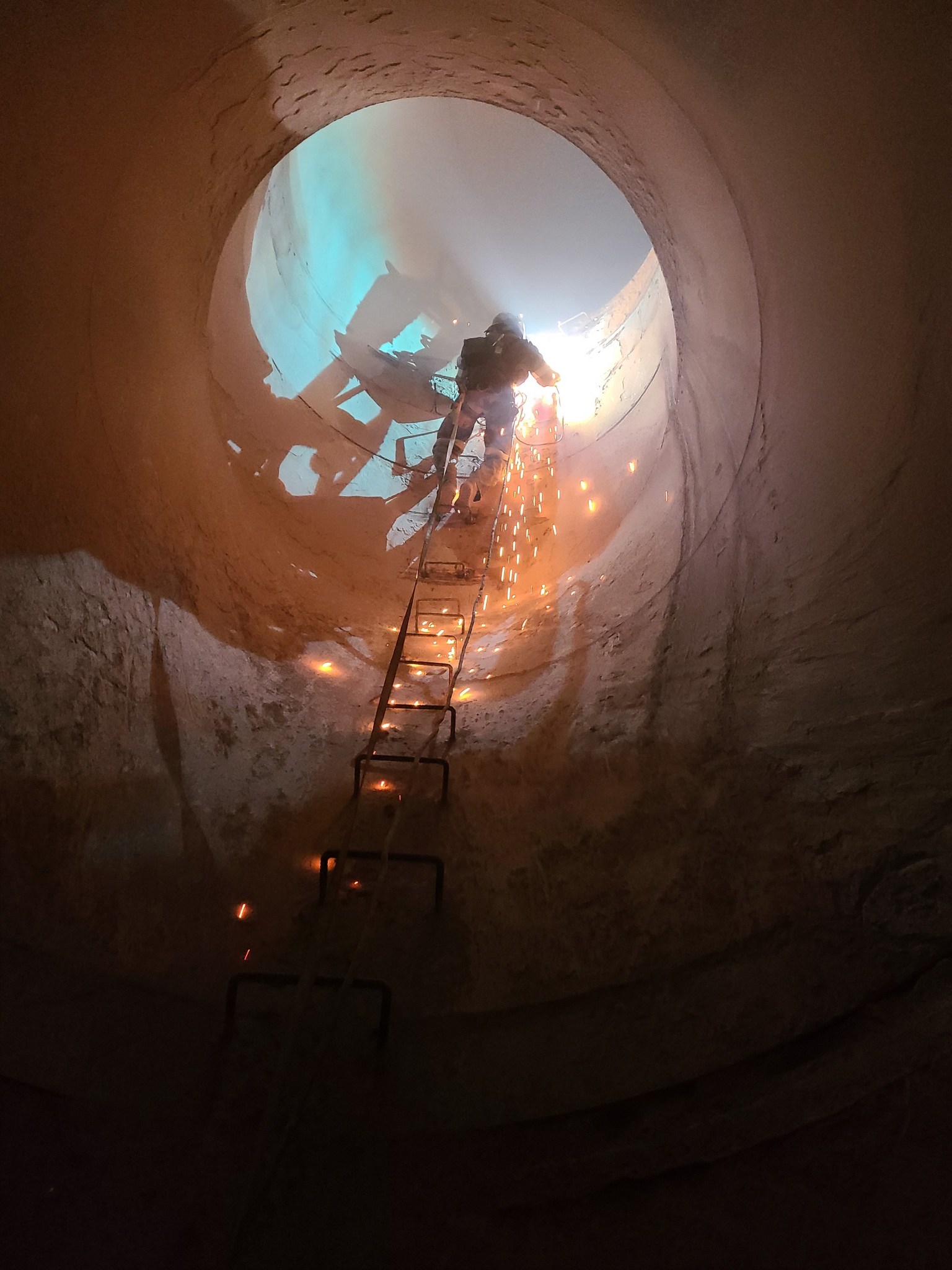 Corrosion Monitoring Services HAI inspectors can weld the 5,000 lb.-rated anchor points needed for access, then inspect a HACS with the vision and experience of a skilled welder. Our inspectors are able to diagnose problems, and our team will recommend solutions. In most cases, this is done for you while we are onsite. CMS immediately brings its findings to your attention and works with you to develop the most effective short- or long-term solution. The CMS approach to rope access high angle inspections combines industry-leading safety compliance with highly qualified craftsmanship.
During any rope access inspection, we consider the original plant design equipment and focus on assessing conditions that require entry inside the space to evaluate. This includes expansion joints, dust covers, casing, and welded joints. We typically identify multiple points where excess air is leaking into the negative pressure pathway of the flue or process gas and in many cases, our inspection represents the first time the equipment has beeen evaluated since original installation. The value of capturing / sealing tramp air leaks can have a stunning impact on plant performance. CMS appreciates the energy, financial, and environmental gains that we can help our clients realize during these inspections. This is one of the reasons that we were inspired to develop a Performance & Reliability Program. The P & R is based on our first hand observations of the destructive results seen time over time and makes critical specialty repair materials available to improve our ability to respond to conditions documented and complete high quality maintenance repairs once a discovery concern has been identified. In addition to performing duct inspections, CMS can also check the condition of your duct access doors, casings, expansion joints, hoppers and chimneys.
Additional advantages of high angle rope access inspections include:
Many times more cost efficient than erecting scaffolding to access hard-to-reach locations
Identification of localized damage, which helps customers avoid unexpected budget busters caused by emergency repairs
Ongoing corrosion monitoring services and documentation for better maintenance planning
Contact Corrosion Monitoring Services (CMS) at (800) 637-6592 and request an inspection that identifies any issues and enables you to schedule repairs before they grow into major problems or equipment failures.
---
Pressure Testing
Pressure testing is an effective and inexpensive tool that can be used to identify air heater tube failures and determine the overall health of the unit. During this procedure, a CMS inspector pressurizes each tube and records the change in pressure to determine tubular air preheater leakage rates as they occur in damaged tubes.
During this test, a CMS inspector pressurizes each tube and records any drop in tube pressure and the associated time. The speed of the pressure change is an indication of severity of the air leakage. If a leak is detected, it may be possible to pinpoint the location by using the more advanced APRIS technique. Knowing the location of the leak may provide a clue in determination of the failure mechanism and provide guidance in the repair technique selection.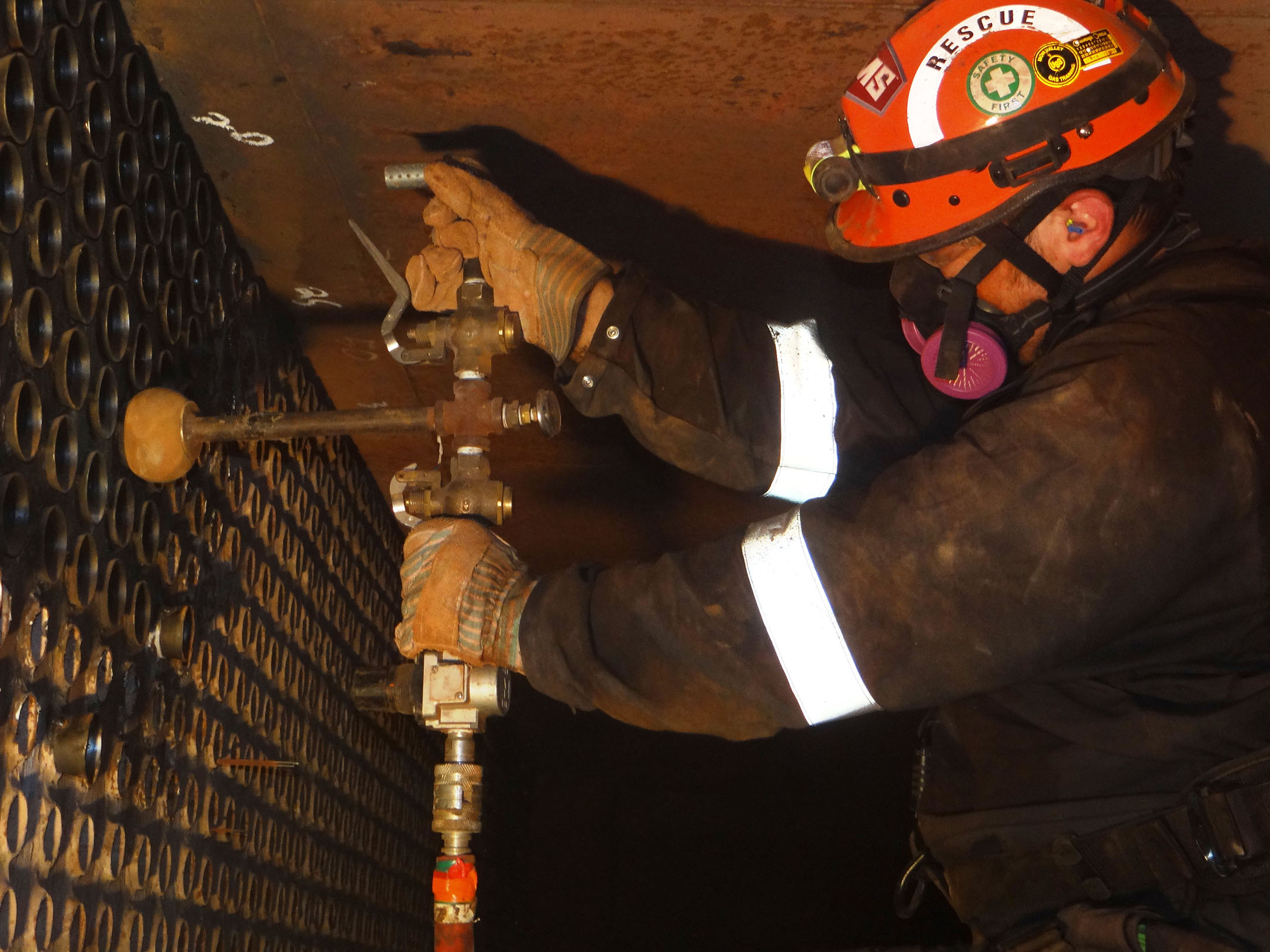 Repair Ready
Where failed tubes are identified within 12 inches of the tubesheet, CMS inspectors can install airtight sleeves to capture the failure behind the sleeve and keep the tube in service. In other cases, the tube can be removed from service by installing a mechanical plug at each end of the tube. Both methods are a quick way to improve boiler efficiency, recover airflow to the boiler and reduce fan power. These procedures can add up to measurable energy cost savings. CMS sometimes utilizes these temporary repairs to improve boiler efficiency, while allowing time to plan for a more permanent solution.
As with all CMS inspections, a detailed report is provided that includes a tubesheet map, documenting damaged tubes as well as any necessary repairs. CMS strives to not only provide a status report, but to help immediately improve your air heater performance and develop a long-term maintenance and corrosion prevention strategy.
Contact Corrosion Monitoring Services (CMS) at (800) 637-6592 and schedule an inspection that identifies any issues and enables you to conduct repairs before they grow into major problems or equipment failures.
---
CMS Inspector Qualifications
Corrosion Monitoring Services' highly trained and skilled inspectors significantly enhance quality control and help prevent costly outages on equipment by evaluating wear and internal degradation of tube based systems such as:
Tubular air heaters;
Surface Condensers;
Evaporators; and
Mechanical Dust Collectors.
CMS also offers duct inspection for locating problems, such as leakage (false air) due to corrosion, and is able to access other remote locations in your plant with its high angle inspection services.
CMS inspectors are trained to recognize, understand, and respond to damage mechanisms like:
Acid Dew Point Corrosion;
Erosion;
Ash Fouling;
Air In Leakage from ducts and expansion joints;
Flow Distribution Issues.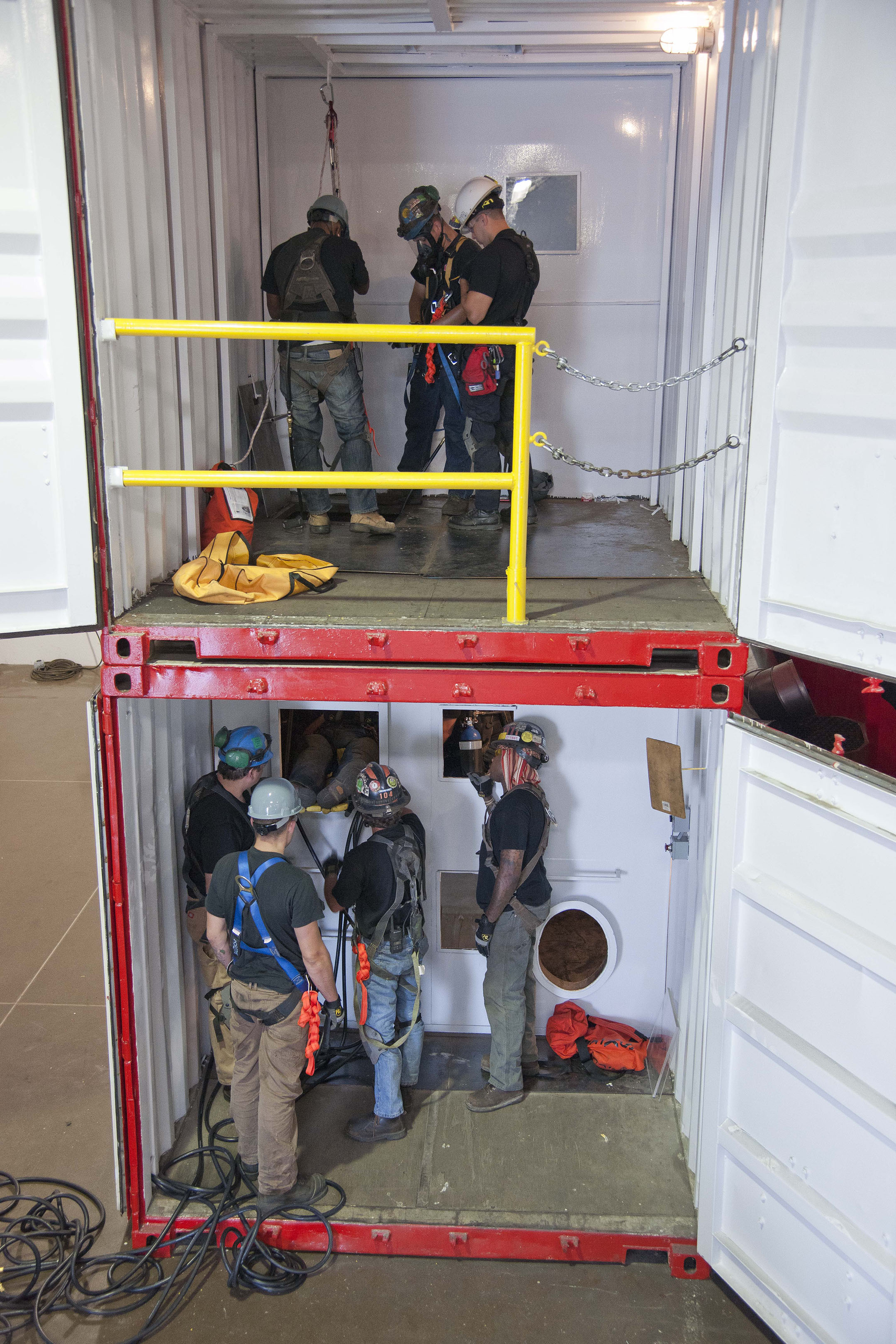 Our staff communicates with your team on a regular basis to report on any significant findings that require immediate attention and opportunities for longer-term maintenance and repair solutions.
After your inspection is complete, you will receive a comprehensive inspection report that focuses on the current condition of your air preheater, dust collector, evaporator, or other equipment you would like examined and the suspected sources for any corrosion, erosion or other forms of deterioration. You can rely on our many years of experience to help ensure that you spend capital wisely for future maintenance outages and select a reliable solution that is built to last.