Rope Access
High Angle Rope Access Inspections
High Angle Rope Inspections
Corrosion Monitoring Services (CMS) offers high angle rope access inspections to assess difficult-to-reach or inaccessible areas. During a high angle inspection, CMS provides a highly trained inspector, supported by a team of world class professional rescuers. Our professionals have the field experience needed to recognize and identify hidden issues, such as process path, flue, or air ducts. We leverage the expertise of our rope access inspector's with the skills of leading professionals in the health and safety field to offer a complete and novel approach to support resolving some of the most difficult challenges faced by industrial plant operators charged with maintaining aging plant equipment exposed to some of the harshest environments imaginable.
Corrosion Monitoring Services HAI inspectors can weld the 5,000 lb.-rated anchor points needed for access, then inspect a HACS with the vision and experience of a skilled welder. Our inspectors are able to diagnose problems, and our team will recommend solutions. In most cases, this is done for you while we are onsite. CMS immediately brings its findings to your attention and works with you to develop the most effective short- or long-term solution. The CMS approach to rope access high angle inspections combines industry-leading safety compliance with highly qualified craftsmanship.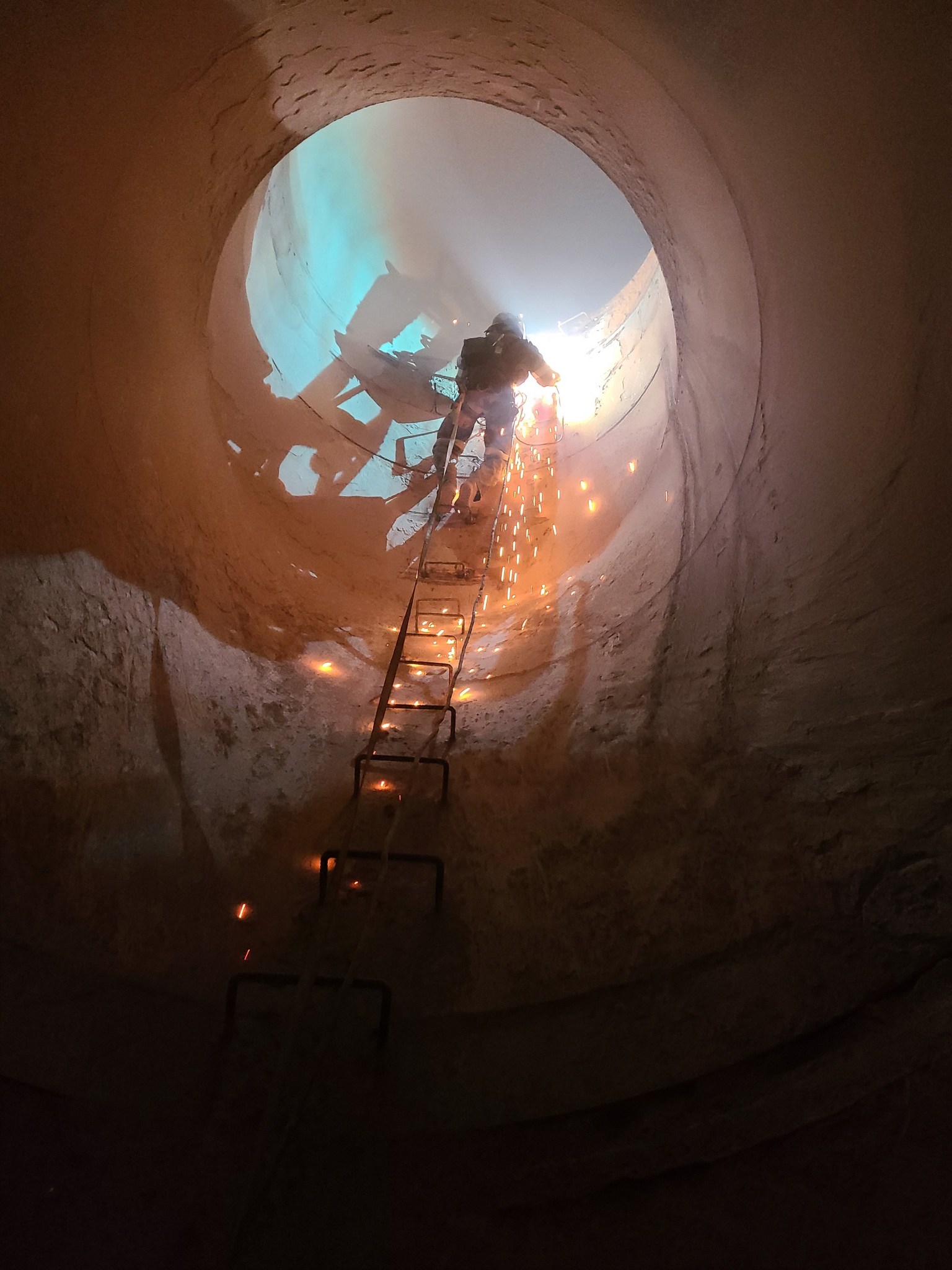 During any rope access inspection, we consider the original plant design equipment and focus on assessing conditions that require entry inside the space to evaluate. This includes expansion joints, dust covers, casing, and welded joints. We typically identify multiple points where excess air is leaking into the negative pressure pathway of the flue or process gas and in many cases, our inspection represents the first time the equipment has beeen evaluated since original installation. The value of capturing / sealing tramp air leaks can have a stunning impact on plant performance. CMS appreciates the energy, financial, and environmental gains that we can help our clients realize during these inspections. This is one of the reasons that we were inspired to develop a Performance & Reliability Program. The P & R is based on our first hand observations of the destructive results seen time over time and makes critical specialty repair materials available to improve our ability to respond to conditions documented and complete high quality maintenance repairs once a discovery concern has been identified. In addition to performing duct inspections, CMS can also check the condition of your duct access doors, casings, expansion joints, hoppers and chimneys.
Additional advantages of high angle rope access inspections include:
Many times more cost efficient than erecting scaffolding to access hard-to-reach locations
Identification of localized damage, which helps customers avoid unexpected budget busters caused by emergency repairs
Ongoing corrosion monitoring services and documentation for better maintenance planning
Contact Corrosion Monitoring Services (CMS) at (800) 637-6592 and request an inspection that identifies any issues and enables you to schedule repairs before they grow into major problems or equipment failures.