Inspection Services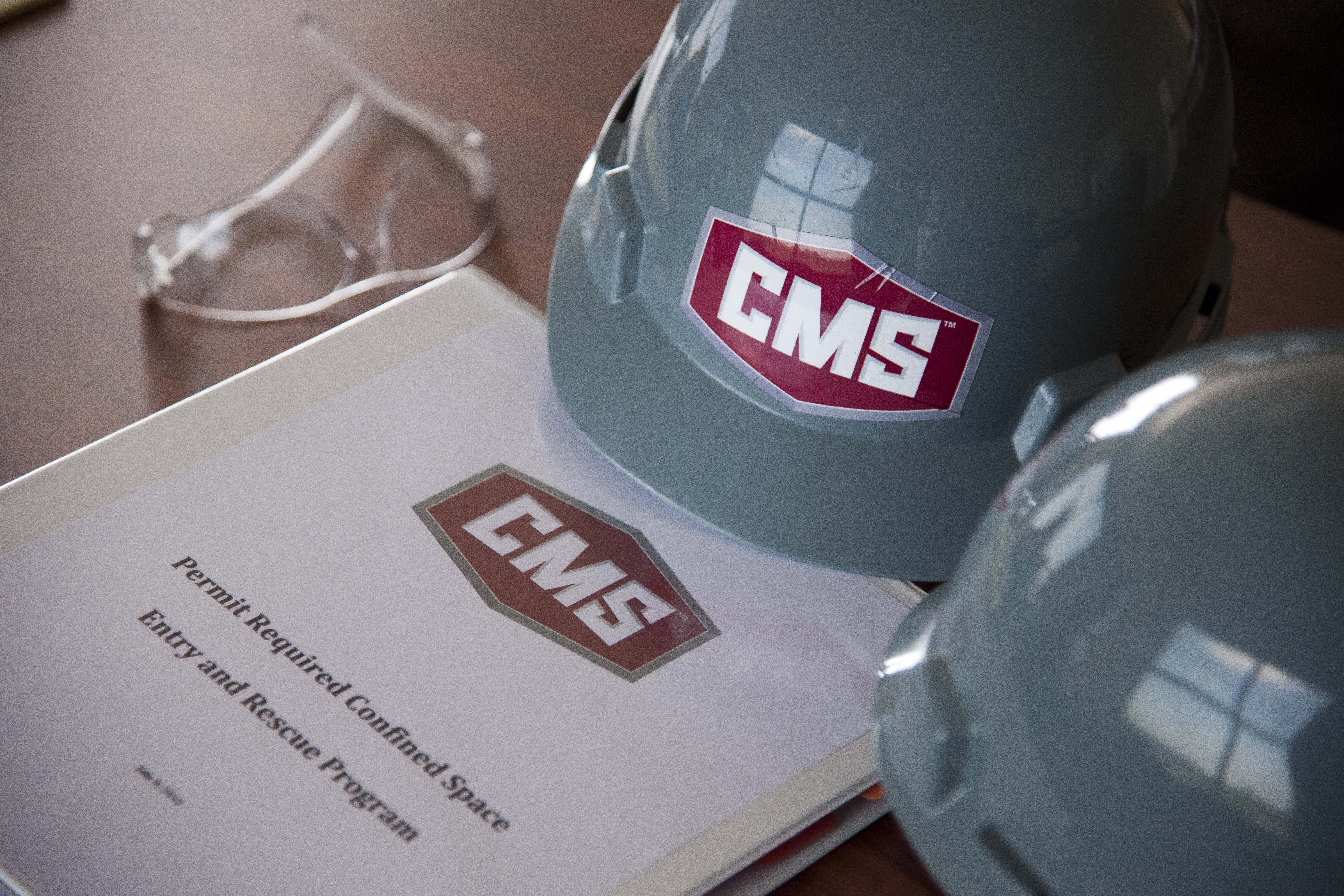 Getting to the Root of the Problem
Today, CMS is the only company in the world that offers complete performance assessment, integrated corrosion assessment and repair services for tubular air preheaters. Our inspection and assessment programs provide an accurate and comprehensive picture of the entire air heater system, pinpointing all areas of tube damage and potential financial impacts.
Our experienced inspection specialists start the process using custom-designed tools to inspect your equipment and look for damage that affects your daily performance and sometimes leads to unscheduled downtime. In addition, we have developed a proprietary Thermodynamic Impact Calculator that uses your own operating data to determine precisely where your system performance is impacted and what you are losing in the process. Our unique approach of first determining the "root causes" of plant operating problems has saved our customers millions of dollars and helped them realize payback on repairs and rebuilds in as little as a few months. Let us show you how our air preheater inspection, repair and replacement services can save you big in the long run!
Is Your Operation Leaking Money?
Cascading Problems Corrode Your Operating Efficiency
Installing mechanical plugs to isolate damaged air heater tubes is one short-term strategy for regaining at least some of your fan and boiler capacity and slowing down and the development of new tube failures. However, it's important to realize that something is causing tubes to fail and that the damage mechanisms will still be at work even after the plugs are installed. Those problems are often cascading in nature, causing hidden inefficiencies and other issues not just in your APH, but throughout the process.
Here are just a few facts about damaged air preheaters and how they might be costing you efficiency and corroding your profits:
A 2009 EPA study reported that just a 40˚F increase in outlet APH temperature results in a 1% reduction in net boiler efficiency.
A 1% boiler efficiency penalty is commonly observed where just 12% air leakage has developed. Fly-ash based fouling or mechanically plugged tubes can result in similar performance impacts.
Tubular air heater leakage can account for as much as 25% of total fan horsepower, not only using more energy, but decreasing the life expectancy of the fan and motor.
Leaking air heaters increase emissions and reduce the effectiveness of downstream pollution control equipment because of increased fuel and gas flow.
One problem leads to another, as temporarily repaired APH units actually decrease the surface area for heat transfer and thus the temperature of combustion air, while increasing gas outlet temperature, pressure drop and net fuel consumption.
In many cases, boiler operators are forced to de-rate their plants due precisely to air heater leakage and fouling. Statistics from the NERC GADS database demonstrate that between 2007 and 2011 a total of 3,233,636 MWH of forced de-rates were due to "Combustion Air and Gas Causes".
The cumulative financial impact of air heater efficiency is rarely adequately measured or observed, but the results speak for themselves. By eliminating leakage in the system, plants can realize up to a 4% reduction in net fuel consumption.
Not only do improvements to your APH units cut overall energy consumption, but they should help reduce your maintenance and waste disposal costs. If the boiler is the heart of your operation, then the air preheaters are its lungs. Ultimately, repair should extend the APH units' life and everything that they touch in your system, from fans to boilers to pollution control equipment.
In many cases, CMS customers have delayed repairs until operational impacts are already a significant problem. Often, by that time the rate of deterioration is so advanced that it can't be ignored. Our calculator can determine this in advance before leakage balloons into a much bigger problem.
A damaged air preheater is a liability that can cost you more than system efficiency and bottom-line profits. By eliminating air leakage and returning the air preheater to 'as built' or better condition with improved materials for erosion and corrosion protection, Corrosion Monitoring Services has helped boiler operators across the United States achieve and exceed their environmental objectives and operate at MAXIMUM operational efficiency. CMS works to ensure that your APH performs as designed and helps keep you operating safely within applicable regulatory requirements.
The detrimental effects of a corroded air preheater can lead to environmental issues. Don't let these potential problems compromise your operation:
Increased waste water
Disposal of excess fly ash due to increased fuel demands
Emissions of mercury, CO, CO2 , SO2 , and SO3
Excess auxiliary power to operate fans required to move the air leakage and provide sufficient flow through plugged tubes
Increased use of additives needed to keep and treat the additional fuel for system operations
Potential for forced outages and catastrophic failure of the unit or equipment
On-site Inspection Services
CMS offers a complete range of inspection services that not only determine the exact extent of existing damage, but can also identify the root cause and its probable failure rate so that you can proactively plan your next steps for a longer-term solution.
Our inspectors use acoustic eye, pressure testing and other inspection equipment and techniques to isolate corrosion and erosion damage in electric utility, steel, refinery, chemical processing, pulp and paper, biomass and waste-to-energy operations throughout North America.
Comprehensive assessment programs conducted by the industry's most experienced APH inspectors provide an accurate picture of air heaters and other critical equipment, pinpointing corrosion, fouling, and other damage that hampers operations, drains energy, and dilutes profits.
After we complete any air preheater inspection, all of our findings and recommendations are detailed in an Executive Summary Report. Depending on the type of inspection performed, the Executive Summary might include corrosion rate charts, ultra-sonic readings, failure rate metrics, detailed tubesheet maps, and maintenance recommendations.
The thoroughness of a CMS inspection helps identify where your equipment is damaged and is the first step toward ensuring that the condition of the air heater never compromises operational or pollution control objectives. Meeting those important objectives starts by hiring a contractor that has deciphered and solved nearly every air heater problem you can imagine – an experienced team member you can depend on.
---
CMS offers high angle rope access inspections to assess difficult-to-reach or inaccessible areas. During a high angle inspection, CMS provides a highly trained inspector, who has also received 80+ hours of NFPA rope access training. In addition to inspecting your air heater, our professionals can check the condition of your ductwork, casings, expansion joints, hoppers and chimneys.
CMS offers a minimally invasive approach to inspecting and repairing your difficult-to-access confined spaces in most industrial environments. We provide a certified welder, proficiently trained in rope access high angle and rescue to inspect the condition of your at height confined space (HACS). When corrosion or other defects jeopardize equipment service life or plant performance, you can count on our highly trained team to locate the problem and recommend solutions in a timely fashion.
Corrosion Monitoring Services HAI inspectors can weld the 5,000 lb.-rated anchor points needed for access, then inspect a HACS with the vision and experience of a skilled welder. Our inspectors are able to diagnose problems, and our team will recommend solutions. In most cases, this is done for you while we are onsite. CMS immediately brings its findings to your attention and works with you to develop the most effective short term solution. The CMS approach to rope access high angle inspections combines industry-leading safety compliance with highly qualified craftsmanship.
Additional advantages of high angle rope access inspections include:
Many times more cost efficient than erecting scaffolding to access hard-to-reach locations
Identification of localized damage, which helps customers avoid unexpected budget busters caused by emergency repairs
---
CMS innovative APRIS Acoustic Pulse Reflectometry inspection solution is designed specifically for detecting faults commonly found in industrial tube systems. These could include leaks, increases in internal diameter caused by wall loss, full or partial blockages, as well as other issues that negatively impact your operations.
Using portable acoustic pulse reflectometry (APR) equipment, CMS inspectors direct one-dimensional acoustic waves at tubular systems to detect defects in cross sectional areas of the tubing. If the pulse encounters a discontinuity in cross section, a reflection is created, and we are able to quickly isolate problem areas. Once we've identified any holes, blockages, or other issues in your air heater or other equipment, we are able to repair those systems and improve your operating efficiency.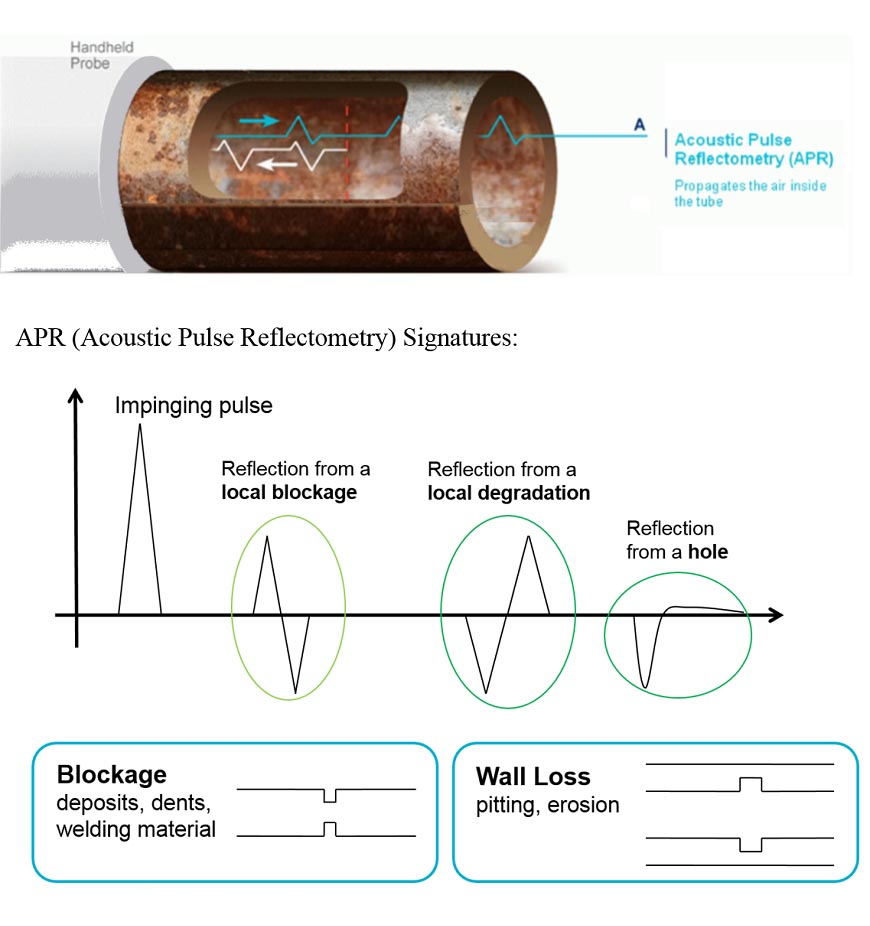 CMS APRIS inspections are able to accurately identify the exact location, type, and size of tube defects without impacting outage schedules. Our APRIS inspection reports include information which enables the customer to plan tube repairs and replacements for improved operational efficiency and cost savings. For more information on APRIS Acoustic Pulse Reflectometry technology, you can visit the Talcyon APRIS website.
---
Pressure testing is an effective tool that can be used to identify tube failures and determine the overall health of an air heater. During this procedure, a CMS inspector pressurizes each tube and records air leakage rates as they occur in damaged equipment.
During this test, a CMS inspector pressurizes each tube and records any drop in tube pressure. The speed of the pressure change is an indication of severity of the air leakage. If a leak is detected, it may be possible to pinpoint the location by using the more advanced Acoustic Eye technique. Knowing the location of the leak may provide a clue in determination of the failure mechanism and provide guidance in the repair technique selection.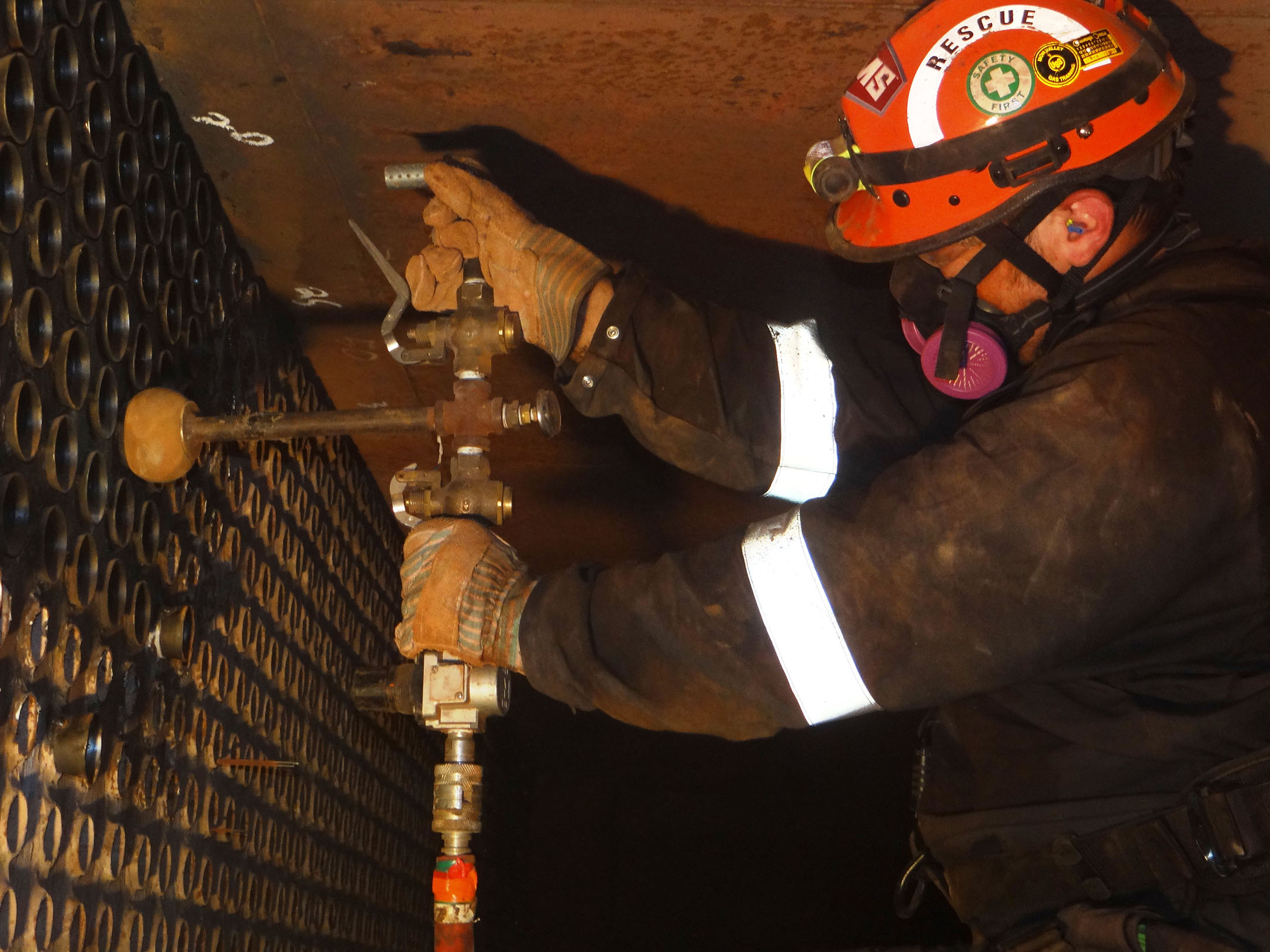 Repair Ready
Where failed tubes are identified within 12 inches of the tubesheet, CMS inspectors can install airtight sleeves to capture the failure behind the sleeve and keep the tube in service. In other cases, the tube can be removed from service by installing a mechanical plug at each end of the tube. Both methods are a quick way to improve boiler efficiency, recover airflow to the boiler and reduce fan power. These procedures can add up to measurable energy cost savings. CMS sometimes utilizes these temporary repairs to improve boiler efficiency, while allowing time to plan for a more permanent solution.
As with all CMS inspections, a detailed report is provided that includes a tubesheet map, documenting damaged tubes as well as any repairs indicated. CMS strives to not only provide a status report, but to help immediately improve your air heater performance and develop a long-term maintenance and repair strategy.
---
Our highly trained and skilled inspectors significantly enhance quality control and help prevent costly outages on equipment by evaluating wear and internal degradation.
CMS inspectors are hand-picked and spend years in training before leading any inspection. We provide in-house seminars and training to ensure that our inspectors recognize, understand, and respond to each damage mechanism. Our staff communicates with your team on a regular basis to help keep you apprised of any significant findings that require immediate attention.
After your inspection is complete, you will receive a comprehensive executive summary that focuses on the current condition of your air heater and the root cause for its deterioration. You can rely on our many years of experience to help ensure that you spend capital wisely during future maintenance and select a solution that is built to last.