Repair Services
Tubular Air Heater Repair Specialists
Repair Services
Air Heater Repair Benefits
If you're searching for tubular air heater repair specialists, look no further. Corrosion Monitoring Services (CMS) offers the industry's widest variety of solutions for tubular air heater repair and replacement, including partial tube repair, in-situ repair, our Convective Tube Solution™ and unique CMS Eros™ repair option.
On request, our experienced team can quickly help you evaluate your equipment based on site inspection and data analysis, using our proprietary Boiler and Air Heater Performance Calculator. We can then tailor products and services to improve your operation with rapid responsive service and protect it with longer-term corrosion reduction techniques and material.
Repair Services to Fit Your Needs
Our goal is to get you back up and running to maximum efficiency as quickly as possible, so that you are able to realize measurable improvements immediately. We also work hand-in-glove with your management team to develop strategies that reduce associated costs required to complete necessary repairs.
A repaired or rebuilt air heater, using Corrosion Monitoring Services' patent-pending designs and corrosion resistant tubing, can extend the life of your tubular air heater and other critical equipment.
---
Partial Tube Repair
In many cases, damage to air heater tubes is localized and limited to one section of the tube (e.g.: cold end corrosion). This is especially true when corrosion is the primary damage mechanism and failures are located close to the tubesheet plate. When local damage is identified, CMS frequently recommends partial tube repairs of the air heater.
In a partial tube repair, CMS removes only the damaged section of the tube and installs structurally secure, air-tight replacement tubes, using its specialty tooling and custom pre-fabricated couplers. This method preserves the undamaged section of the tube and is often as effective as a full-length re-tube, but a fraction of the cost. Since 1985, CMS has performed thousands of partial tube repairs and is the industry's leading provider of this solution.
Benefits of partial tube repair include: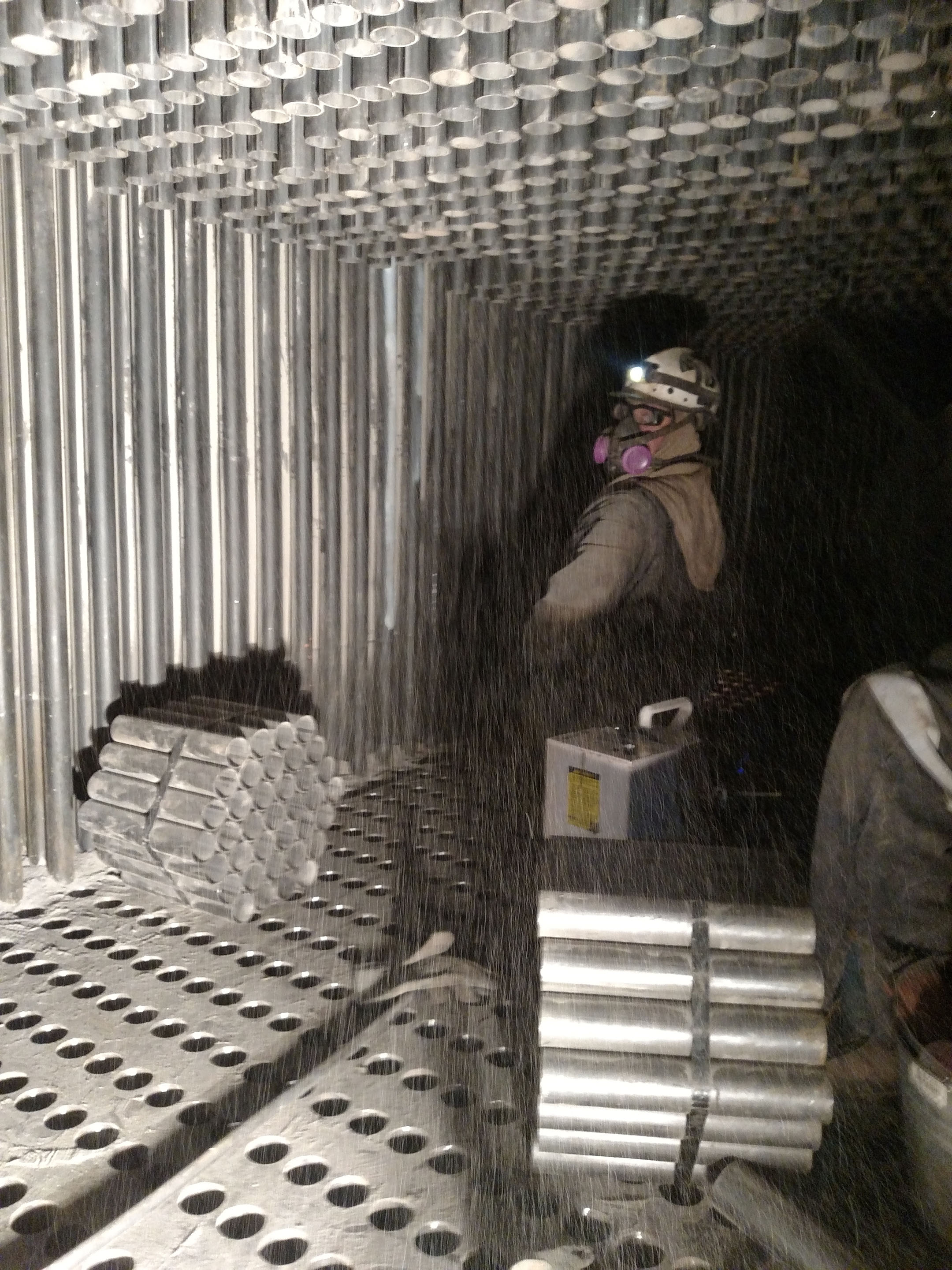 Strategically located for precise repair of only the damaged areas.
Scope can be performed in short outages.
Enables air heater repair without removing surrounding structures.
Minimal scaffolding, reducing maintenance costs.
Crane rental not required.
Warrantied seal between parent and replacement tubing .
Material or design upgrades available .
---
In-Situ Repair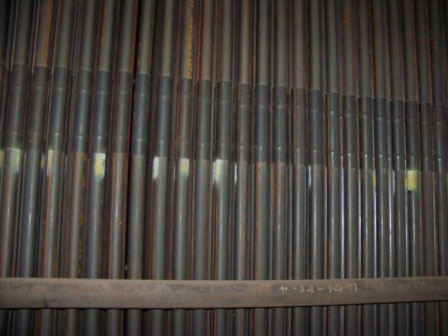 Access to an air heater is frequently limited by overhead obstructions or the location of adjacent equipment, such as economizers or dust collectors. In many cases, these obstructions make it difficult, if not impossible, to install full-length replacement materials, without taking an extended outage.
Corrosion Monitoring Services developed the in-situ method of repair, allowing tubular air heaters to be rebuilt from the inside out, without removing any of the surrounding structure. Throughout its projects, CMS uses its Rapid Repair™ Conveyer Systems, custom-designed for the sole purpose of rebuilding tubular air heaters. These proprietary tools allow for major repair projects to be performed in a faction of the time that would otherwise be required.
The goal is minimal disruption of your ongoing operations, enabling a rapid return to full capacity, but with much improved efficiency. In addition to saving you time, the in-situ process significantly reduces associated costs and schedule for the repair by minimizing the need for scaffolding and crane procurement. We plan and execute our work within your footprint!
CMS's turnkey repair process begins months in advance, when we fabricate materials in our own shop. We don't rely on third-party sources, which maximizes our quality control, minimizes costs, and reduces lead times. All are time-proven benefits that we pass on to our customers.
Our experienced project managers and engineers work with you to determine the best possible solution that allows for seamless installation during an outage. We stand by our products and services, backing them with expert support, and in some cases, a five-year warranty.
Benefits of in-situ repair include:
Rapid repair scheduling and mobilization.
Performed safely and efficiently within you footprint.
Minimizes the need for expensive scaffolding and cranes.
Custom solution, rather than a "one-size-fits-all" problematic approach.
Warrantied repairs (in some cases).
---
Convective Tube Solution
CMS's patent pending Convective Tube Solution™ is a product of precision engineering and more than 30 years of experience inspecting and repairing tubular air heaters. During the repair, CMS actually upgrades the metallurgy of your tubing. Modifications to the design of the tube and tubesheet plate are performed during field installation. Repairs result in the effective elimination of dew point corrosion failures and fly ash plugging.
---
CMS EROS™
The EROS™ is a CMS Inc. patent-pending design that provides long-term relief from problems associated with fly ash erosion. Fly ash erosion often occurs within the first 3-5 inches at the gas inlet of the tube up to the top tubesheet plate. In an EROS™ repair, CMS removes only the damaged area of the equipment and upgrades the design and metallurgy of the replacement material to prevent reoccurrence of damage. The EROS™ design also ensures that wear damage occurs to the sacrificial areas only (overlay plate and sleeves).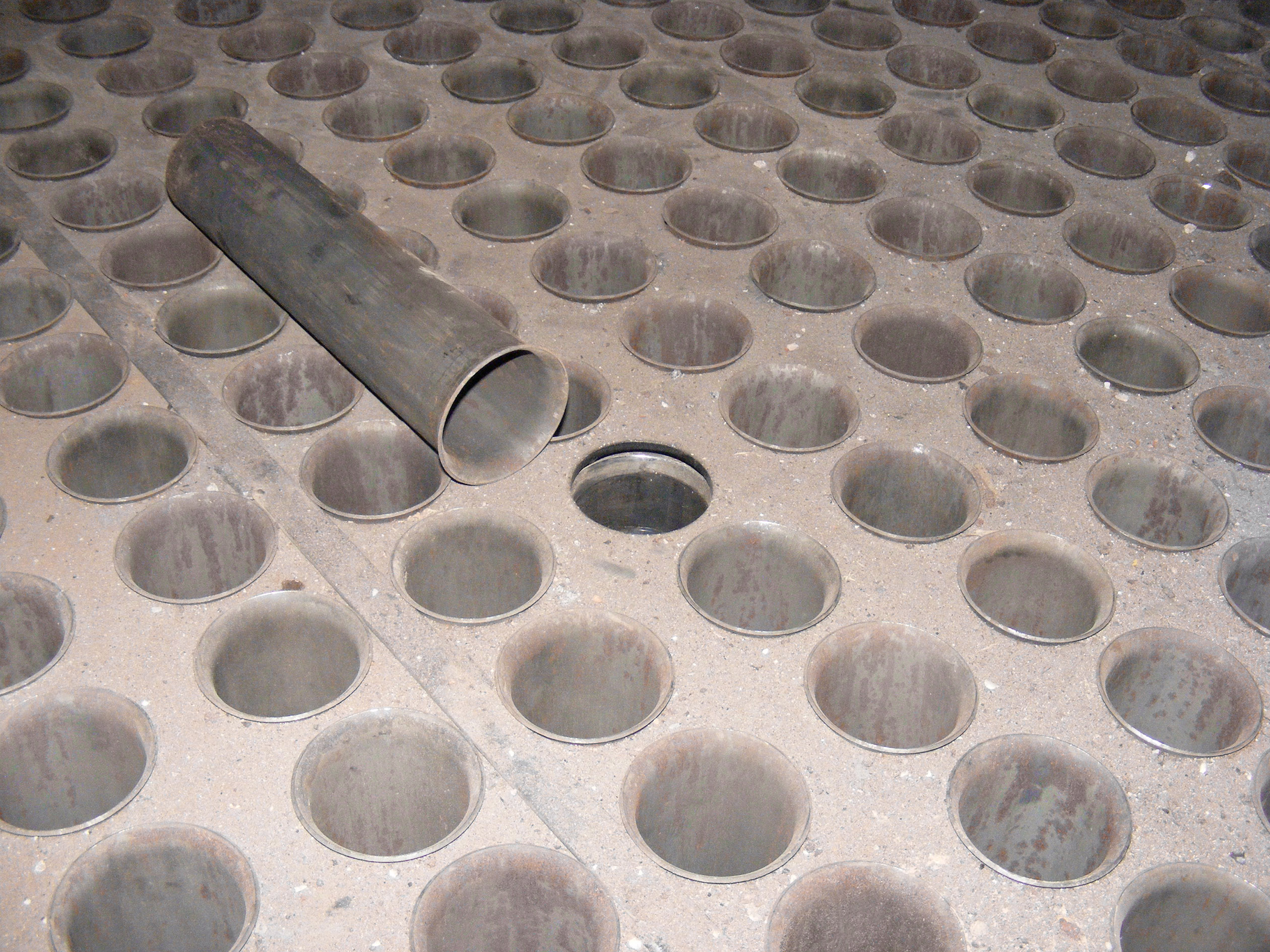 An EROS® repair project provides you with the following benefits:
Upgraded metallurgy at the area most vulnerable to erosion damage.
No increase in air heater pressure drop.
EROS® specially hardened inserts can be joined to undamaged sections of tubing.
Significantly reduces long-term maintenance costs.
Provides you with our Air Tight™ APH Preventive Maintenance Program.
Includes an optional 5-year warranty against erosion failures.
---
HERO™ APH External Corrosion Guards
HERO™ is part of Corrosion Monitoring Services' ongoing development of solutions for tubular air heater damage mechanisms. HERO™ is a patent-pending external corrosion guard designed to provide an extra measure of protection against standing water damage to your air heater. Our external corrosion guards can be installed above the bottom of tubesheet plate or above the baffle level, depending on customer requirements. This small but important feature, delivers big benefits, including:
Pre-fabricated in advance of repair, leading to ease of installation.
Provides sacrificial steel to protect tube outer diameter at BTS
Significantly extends service life of replacement tubing.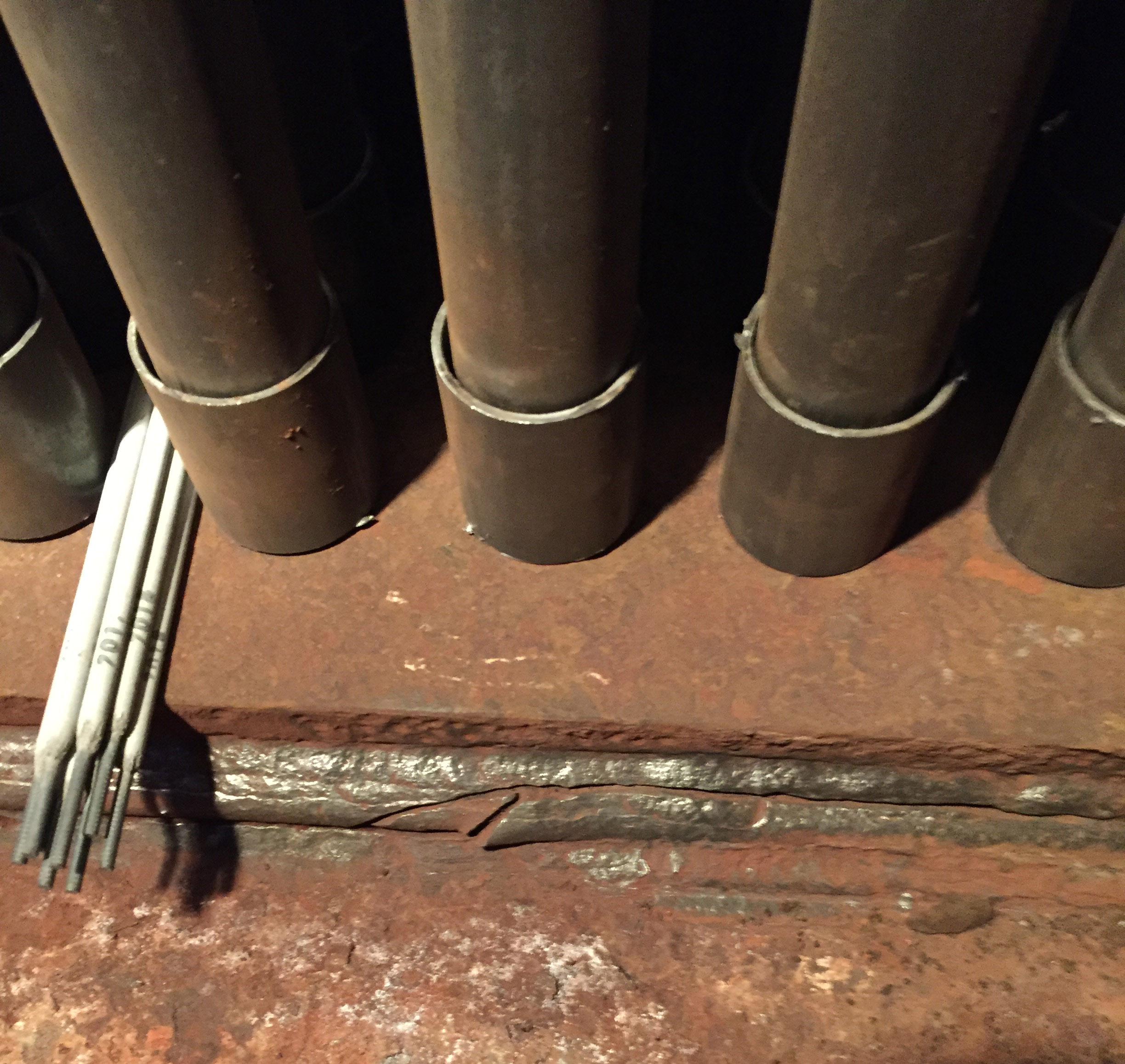 Act Today and Save Yourself Performance Issues Tomorrow
Contact CMS at (800) 637 6592 and find out how your tubular air preheater might be causing problems throughout your operation. Our team of experts can quickly assist in diagnosing your air heater and gas path problem, show you how we can improve air heater efficiency, and even provide emergency repair when you need it most. Our mobile service teams are often able to inspect your equipment and offer field repair of an air preheater on the spot. Whether you are looking for a quick fix to bridge the gap between outages/maintenance intervals or a more permanent solution, turn to Corrosion Monitoring Services to solve your problems before they turn into performance issues.