CMS Provides Safe Solution for Lehigh Cement Silo Cleaning Project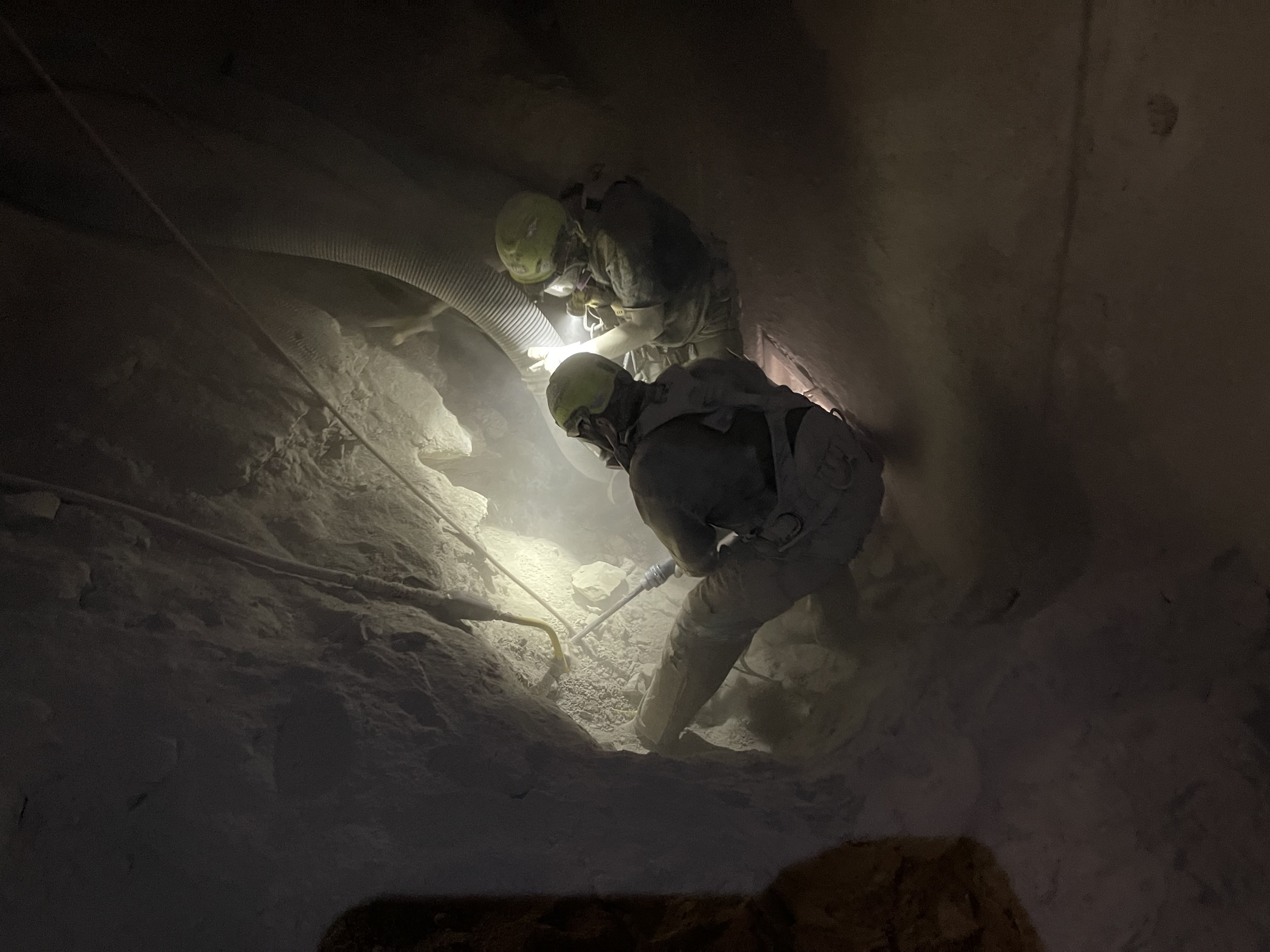 When Lehigh's cement plant in Glens Falls, New York ran into a particularly hard problem in its largest cement storage silo, Plant Manager David Dreyer eventually turned to the safest inspection and repair option he could find for a solution.
"This particular silo is one of our newest," reports Dreyer. "It was constructed in 1985, so I can recall back ten years ago where we started running into issues. It's a 15,000-ton capacity cement storage silo. That's fine gray powdered cement in powder form, so that's a lot of cement. At some point in time, probably many years ago, we developed some sort of leak in the roof."
The water made its way down through the top of the unit and started hydrating powder in the bottom third of the partially filled vessel. "It's a relatively flat bottom silo, with a five-degree slope incline, and there are over 100 air pads at the bottom that aerate the material in order to let it flow out of the discharge point," explains Dreyer. But the aeration system only works as designed when the material it is moving isn't the consistency and size of a boulder. "Over the course of time, we estimate 5000 tons of material was contaminated and locked up in the silo," he notes.
"We were able to work through that over recent years, but we would always get down to a 4000 ton level in that silo, and we wouldn't be able to get any more out of it," says Dreyer. "So it was unusable space, basically, that was just kind of sitting there."
In the Fall of 2021, the Lehigh team decided it was finally time to tackle the problem rather than continue to work around it. "We were in a position where we weren't able to empty the silo fully, and then we couldn't get in there," according to Dreyer. "There's only one access point from the bottom, really, through a 24 inch by 30 inch man door. So we couldn't safely put people in there with that amount of material still in the silo and get it out from the bottom." The only way to get to the giant hardened mass was through the top.
The first attempt at breaking up the hardened material had a bigger impact on the maintenance budget than it did on solving the problem, according to Dreyer. The first contractor used air whips, with special proprietary grinders on the ends, to grind up the solidified material and get it flowing again. "But it's a very slow and tedious process requiring a lot of compressed air," he laments. They were able to get out maybe 1000 tons of that product at a very slow rate. So finally, we decided this approach isn't going to work. We have to do something different."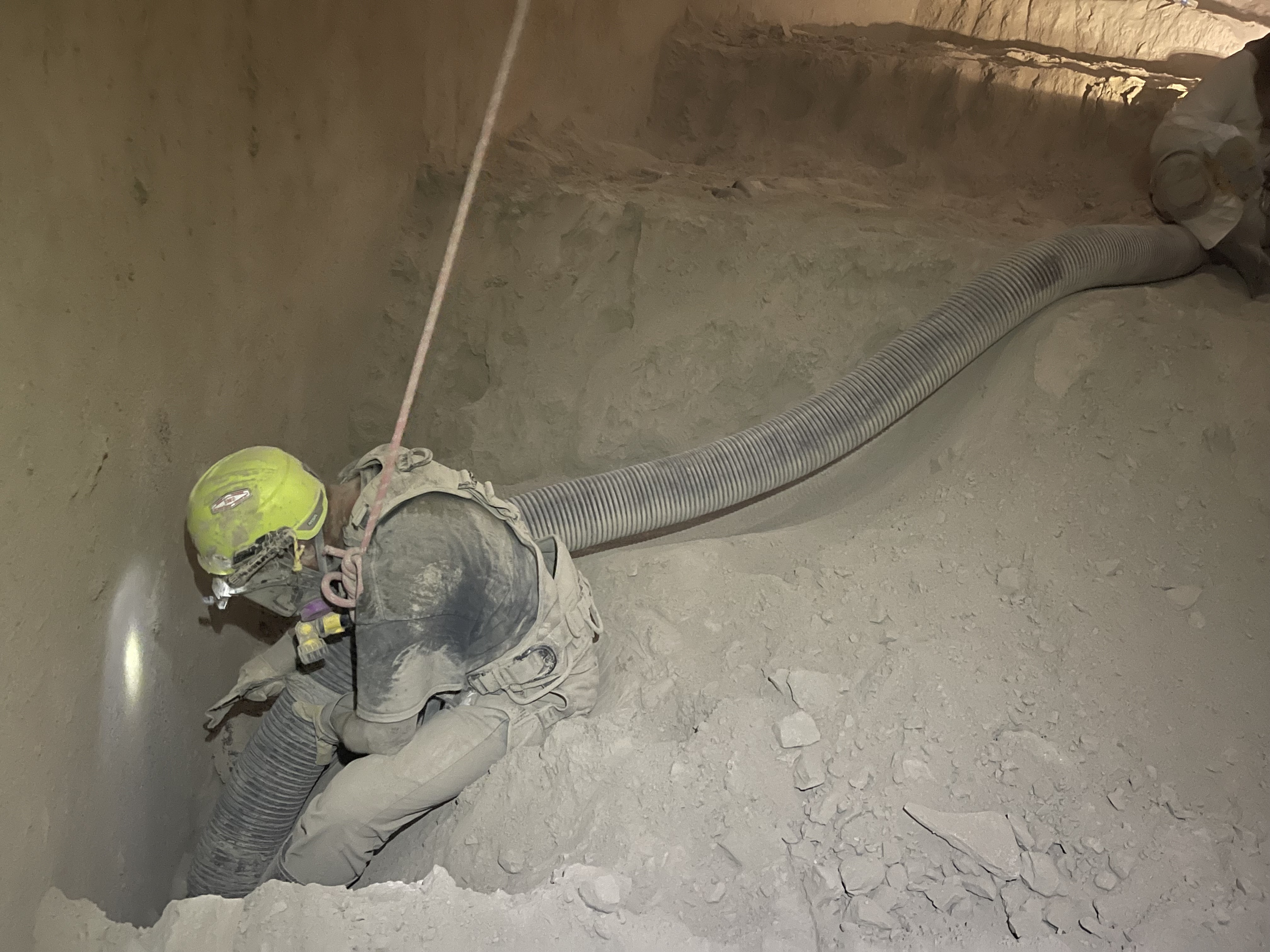 They determined that a better approach would involve lowering a team of professionals into the silo through an opening in the top, since the bottom wasn't a safe option. Dreyer thought of CMS first, a Chicago-based company with high angle inspection and repair experts that had succeeded for Lehigh Cement on past projects. "There aren't any contractors that I'm aware of that would do that other than Corrosion Monitoring Services," shares the industry veteran. "I had worked with them in our gas conditioning tower and upper duct work using high rope access to do cost effective repairs rather than replacement. We were able to get inside and have the CMS crew do those repairs, in place, in very difficult positions and locations, which saved a lot of money over the years."
Those previous successes and CMS's extensive high angle inspection and repair experience made the final decision an easy one. "We came to a consensus that it was probably possible to drop people in to inspect the inside of the silo and see what we got," he says. "So we pulled the trigger on that."
Lehigh ended up getting even more bang for its buck. Not only did the CMS team inspect the silo, but they started chipping away at the rock-hard material plugging it up. "It was very effective getting people down with their boots on the ground inside the silo to actually do the manual labor in order to make it safe to access," states Dreyer.
CMS foreman Steven Cook employed a strategy that he learned in the military, creating a pattern of steps. "In case a material started rolling down, it would actually stop the block on that first layer or level," explains Dreyer. "They actually made a safe staircase to get us to the top of this material so we could start breaking it down from the top. It was very creative and unique."
Once CMS completed its part of the project and demobilized from the site, Lehigh Cement was able to get a crew of four individuals inside the silo from the bottom so they could start working to removing the material manually. "We still have maybe 2000 tons inside that silo that we still have to remove," reports Dreyer, "but at least the work that was done by CMS enabled us to get in there safely. Without their expertise and their ability to get in there using the high rope access, we'd still be poking at it today with remote methods at a very high price, where now we can manage the cost and get in there on our own schedule."
Cleaning out the silo so it could operate at full capacity has always been the goal, but Dreyer emphasizes that the safety aspect of the project was equally important. "The cement industry falls under Mining Safety and Health Administration regulation, so we can't do the things that normal commercial businesses can do under OSHA," he clarifies. "We have to go to the next level. They have very specific rules that we need to follow. Confined space rescue plans, fall protection, and all that stuff comes into play. The most important thing was safety, especially in this situation, because we don't have a rescue crew on site. Our emergency plan for confined space rescue is to call the local fire department. So what impressed me about CMS was the attention that was given to safety."
Dreyer doesn't believe that the cement plant he oversees is the only one that stands to benefit from CMS's unique capabilities. "Cement silo cleaning is something that I think every cement plant has to deal with at some point or another, whether it's a cement silo, clinker silo, limestone silo, or a Gibson silo," he points out. "There's always silos to be cleaned out. This is a new approach of doing it, especially in a difficult situation like we had."
Although CMS had worked on projects at the plant in the past, this was something new for the Cement Industry contractor, and Dreyer applauds the whole team for rising to the occasion. "There's not many companies like CMS," he concludes. "I've dealt with literally hundreds of contractors in my career for 30 years, and you always have those that kind of rise to the top. CMS is certainly in that category. And the things that I look at are, number one, safety; number two, quality; and number three, the response and the professionalism of the team. It's something that you don't always get these days, and it's refreshing to know that they're still out there, and companies like CMS do exist. There's just something about that company that I've enjoyed working with them again and again,. It's our ability to work together to identify a challenge and then work together to resolve it."
For more information about Corrosion Monitoring Services inspection, repair, and other services, contact us at 800-637-6592 or inforeq@cmsinc.us