High Angle Inspections Enable Better Planning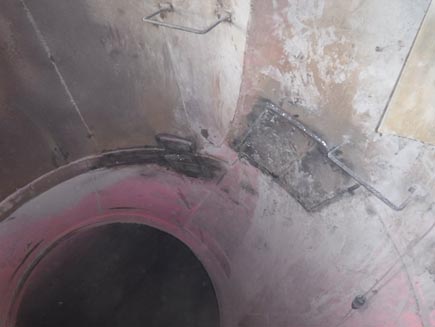 CMS was contracted to provide rope access inspection services to assess the condition of the conditioning tower transition duct. This project was staffed using qualified MSHA Part 46 and confined space high angle trained employees.
"We asked that CMS to go inside and look for any wear deformation, cracks, and corrosion," says Gustavo Martins, Maintenance Mechanical Engineer at Lehigh's Leeds, Alabama Cement Plant. "Of course, when you talk about ducts, you look for other things like expansion joints and valves. We are not inside, so we need someone who can go inside and knows what they are looking for."
CMS's inspection identified several problem areas, including localized areas of thinning (corrosion and/or erosion), weld failures to duct sections, a damaged flange, and weld cracks.
Martins explains that it was priority to have someone inspect the duct who knows what problems to look for and how to fix them. "We expect that small things that can be repaired, patched or welded, to be done," adds Martins. "You also point out when something can't go through another year without repair."
Recent Inspection Identifies Problem Areas
During the 2019 inspection, CMS used visual and non-destructive methods to identify areas of concern. The visual inspection focused on identifying anomalies consistent with equipment degradation, such as corrosion, erosion or general damage.
The inspection process included using a hand-held device for ultrasonic thickness (UT) measurements. CMS's inspector, also a qualified and highly experienced welder, also performed repairs to damaged equipment identified during the inspection. In addition, CMS supplied all tooling and associated personnel to safely perform the job as part of the work scope.
Project Set-Up and Inspection Procedures
Prior to the project, a work safety plan was developed for each item of inspection included in the work scope. All CMS safety plans are developed in accordance with NFPA guidelines and MSHA regulations.
The 2019 inspection required complex rigging to be installed to facilitate a safe work environment for the inspectors and a rescue team. All rigging anchors and apparatuses were safely removed from the space after each inspection was approved complete by the plant.
Inspection and Repair Results
The inspection results identified areas of degradation that required both reactive and proactive repairs to extend equipment service life in these areas. All ducts showed areas of wall loss or thinning as determined by UT measurements. The thinning was defined by comparison to other areas within the duct. The ducts with areas of highest concern required immediate repair in order to prolong their integrity. Plant personnel were notified of each damaged area, and repairs were discussed prior to being made.
CMS's efforts have made an impact at the aging cement plant. "The sum of this specific repair and all the small repairs you have done has led to a significant reduction in leakage," reports Martins. "We know why we have false air in the system, so we know why it hasn't been as much of a problem lately. In fact, it has improved a lot."
Lehigh Leed's Maintenance Department needed someone they could trust to inspect equipment and provide reliable data. "That helps plan for future maintenance," notes Martins. "If you don't tell me what you saw based on your experience, it can turn into a nightmare. We were looking to find the problems and address them with the best solutions to help us prepare for the future."
Thinking Ahead
Some work identified by CMS's 2019 inspections, such as repairs to expansion joints, is planned for a maintenance outage next year. "The conditioning tower is in terrible shape," notes Martins. "We're going to have huge work done there because of your inspection."
CMS inspectors are often able to spot cracks and other damage before they grow into a bigger problem and, possibly lead to a costly failure or shutdown.
Where the Value Really Comes In
Companies rely on CMS to handle challenging projects on tight deadlines in tight quarters. All CMS inspectors are trained in high angle inspection and can often reach places even a drone can't access. To access these areas, extensive and expensive scaffolding is required, which consumes valuable time, materials, and other resources.
Adaptability to Meet Customer Needs
The Leeds Plant has been working with CMS for more than 5 years now, and Martins plans to continue relying on the reliable contractor for inspection and equipment repair projects. "It's been good, with fast response and willingness to adapt to the customer," he concludes. "Every time that we need a change, CMS has been very responsive."