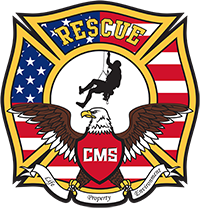 Like customers in the industries CMS serves, we take safety seriously. CMS Safety Services are unique within the industry. Most of our safety officers and confined space attendants are current or former firefighters with decades of experience responding to confined space and other emergencies. We pride ourselves in both the rigorous and extensive training that our employees receive and the cutting-edge equipment that we supply during outages.
On a regular basis, our Rescue Services Crews help customers in a variety of capacities, providing standby rescue services, high angle rescue training, and confined space inventories. In fact, we provide complete outsourcing of outage safety needs, including suppling all confined space attendants and safety officers to direct the outage.
Our safety record speaks for itself. In fact, CMS earned an OSHA SHARP perfect score. Although we work hard to minimize risks, we are still able to meet your demanding inspection, repair, and replacement schedules in a timely fashion. We just do it safely. Consider CMS the next time you are searching for a construction safety staffing firm or an on-site rescue team that you can rely on − whether it's for planned or unplanned maintenance.
CMS can configure safety services and training options to meet your unique needs.
Standby Rescue.
Rescue Trained Confined Space Attendants.
Consulting.
Onsite Training.
Confined Space Inventory.
Equipment Rental.
Safety Services.
High Angle Inspection.
CMS's safety program is world class compared to others that I see in the industry. They've got an excellent program, and they're a contractor that I wouldn't hesitate to do business with again. You can have all of the best equipment, but if you don't have the best people to operate it, you're not running optimally.
---
CMS repair crews participate in comprehensive and specialized confined space safety training before they ever work on a job site. In fact, we are the only tubular air heater inspection and repair contractor in the U.S. that offers NFPA 1007 and 1670 worker-to-rescue training certification. All of our employees are Confined Space Rescue Trained (NFPA 1670 and 1006, OSHA 29 CFR 1910.134, ANSI Z 117.1) and have received a minimum of 86 hours of hands-on confined space rescue training using a full-scale permit-required confined space simulator.
CMS has taken an industry-leading approach to training and qualifying confined space attendants (CSAs). Each CSA is certified as an Emergency Rescue Technician (ERT). The ERT training includes advanced confined space rescue techniques/operations, Incident Command System (ICS), supplied air respirators (SAR), self-contained breathing apparatus (SCBA), rapid intervention team (RIT) operations, complex patient packaging techniques, first-aid, CPR, and AED. Rescue training even includes advanced high angle rope rescue techniques for complex operations. Many of our confined space attendants are former or current firefighters, who have extensive rescue training and real-world experience.
Where a confined space is classified as permit required, OSHA requires that a confined space attendant (CSA) be stationed near the space during any entry. The CSA is responsible for ensuring that conditions inside the permit required space comply with OSHA regulations and that necessary precautions have been taken to minimize the likelihood of a workplace injury.
A CSA must not only recognize hazards present but possess the skill and training to needed to implement preventative safety measures and use advanced equipment. Unfortunately, many CSAs have received little training their inexperience sets the table for avoidable work place injuries and accidents to take place.
At CMS, all of our CSA have been certified as Confined Space Rescue Technicians (CSRT) through an intense and rigorous training program based on NFPA and OSHA guidelines. CMS Rescue training includes high angle rescue, advanced rope ripping systems, non-entry rescue techniques, atmospheric monitoring, AED, first aid, and complex patient packaging.
The CMS Process Safety Management System also allows our CSRTs to quickly generate site specific hazard assessments, rescue plans, and the system helps ensure that there are zero gaps in compliance.
Benefits of staffing CMS Confined Space Rescue Technician:
Site specific hazard assessments
Zero gaps in compliance documentation
Seamless communication
Highly qualified safety and rescue personnel
---
Due to the level of training and rescue equipment brought to each job site by CMS, our working crew can double as a standby rescue team. For example, our employees receive extensive training in confined space rescue as well as high angle rescue. We can even augment plant or contractor safety needs that may arise during an outage. Look to CMS first when you need a maintenance or construction safety staffing firm.
In many cases, OSHA requires host employers to assign a standby rescue team to respond in the event of a confined space emergency. OSHA has also established challenging time parameters for the completion of rescue operations for permit required confined spaces. Complying with these timelines can be difficult where a local fire department or, even in-house rescue team, is designated as the standby responders.
Hiring an outside professional rescue team can represent one manner to help ensure the availability of competent rescuers but their expense often cost prohibitive.
CMS Rescue Teams provide highly trained and experience rescue personnel in an approach that actually helps reduce annual safety expenses. Every member of our Rescue Teams has been certified as an Emergency Rescue Technician (ERT) and have received a minimum of 86 hours of confined space rescue training. The ERT training includes high angle rescue, complex patient packaging, first aid, AED, incident command systems, and rapid intervention techniques. Most Team members have decades of experience acting as first responders or as professional rescuers and they train year round in confined space rescue operations.
Our Rescue Teams take an active role in assuring the safety of the confined space prior to entry. This includes providing a site specific hazard assessment, creating a rescue plan in advance of entry, and pre-staging essential emergency equipment. Through our processes and procedures, a rescue operation begins almost as soon as an emergency develops. Our preparation can be the defining difference between a rescue rather than recovery operation.
Benefits of CMS Rescue Teams:
Highly trained rescue personnel
Active participation in site evaluations
Rapid emergency response
Zero gaps in compliance documentation
Reduced safety expenses
---
CMS has developed a customized training program known as "worker-to-rescuer". Completing the worker to rescuer training program enables our employees to transition from their traditional roles as workers into a fully qualified and competent team capable of responding to any confined space emergency. We offer a variety of rescue service plans, hands-on training classroom and onsite courses to fit your unique needs.
The CMS patent pending "Worker to Rescuer™" safety system is a revolutionary approach to confined space safety. Our belief is that confined space workers represent the first and best line of defense to both prevent and respond to a confined space emergency.
This program trains confined space entrants to transition from their traditional role as workers, into a professional rescue team capable of responding to any confined space emergency.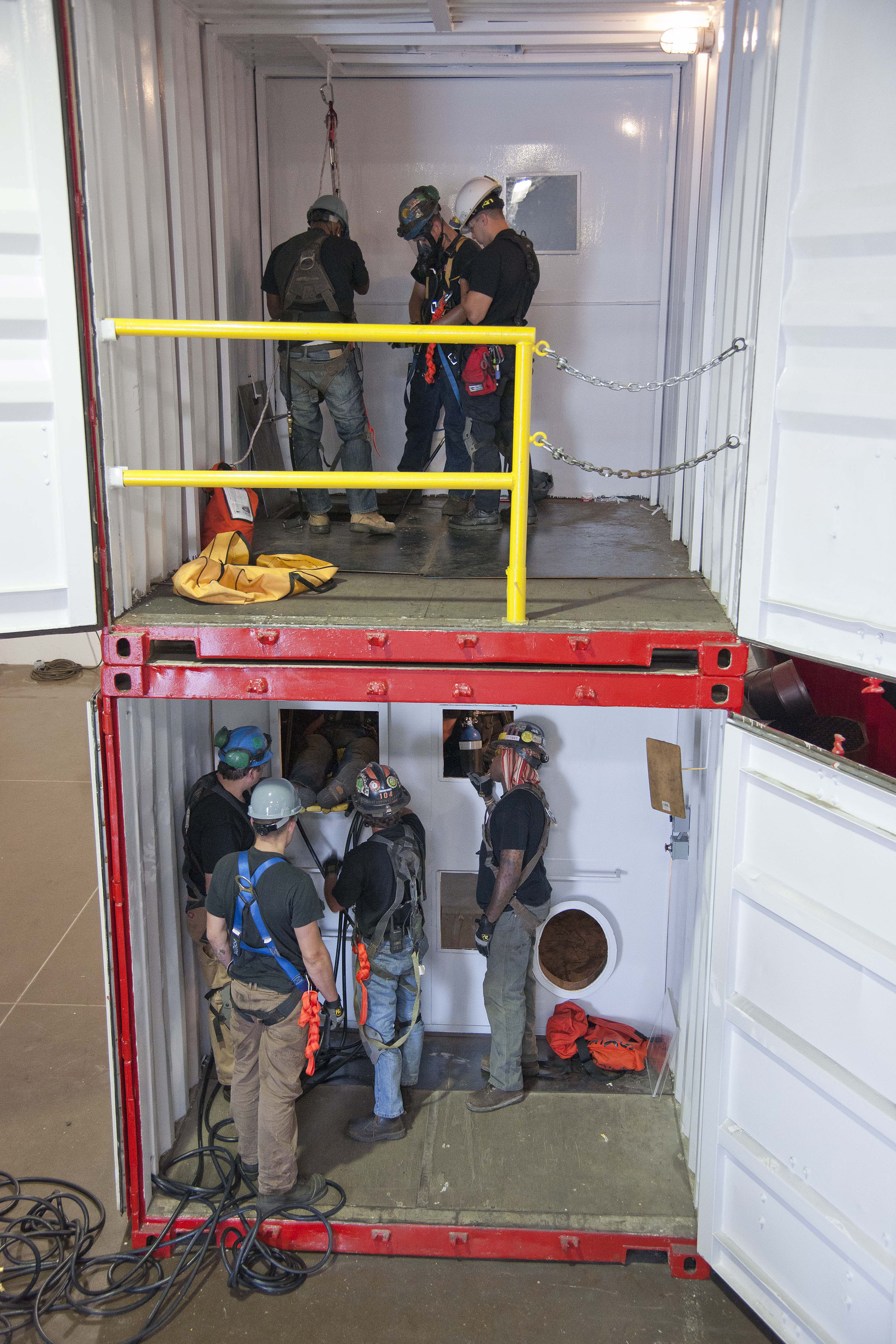 Every CMS employee has received this training. Our in-house instructors are professional rescuers with decades of training and experience responding to confined space emergencies.
Using our full scale multi-story confined space simulator, workers receive over 150 hours of hands on training that includes:
First-Aid, AED, CPR
Atmospheric monitoring
Incident Command/Management System
Supplied air and respirators
Rapid intervention team operations
Patient packaging techniques
Non-entry rescue operations; and
Simulated rescue operations