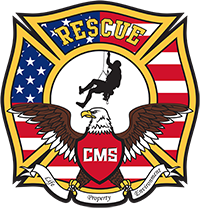 Like customers in the industries CMS serves, we take safety seriously. CMS Safety Services are unique within the industry. Most of our safety officers and confined space attendants are current or former firefighters with decades of experience responding to confined space and other emergencies. We pride ourselves in both the rigorous and extensive training that our employees receive and the cutting-edge equipment that we supply during outages.
On a regular basis, our Rescue Services Crews help customers in a variety of capacities, providing standby rescue services, high angle rescue training, and confined space inventories. In fact, we provide complete outsourcing of outage safety needs, including suppling all confined space attendants and safety officers to direct the outage.
Our safety record speaks for itself. In fact, CMS earned an OSHA SHARP perfect score. Although we work hard to minimize risks, we are still able to meet your demanding inspection, repair, and replacement schedules in a timely fashion. We just do it safely. Consider CMS the next time you are searching for a construction safety staffing firm or an on-site rescue team that you can rely on − whether it's for planned or unplanned maintenance.
CMS can configure safety services and training options to meet your unique needs.
Standby Rescue.
Rescue Trained Confined Space Attendants.
Consulting.
Onsite Training.
Confined Space Inventory.
Equipment Rental.
Safety Services.
High Angle Inspection.