Standby Rescue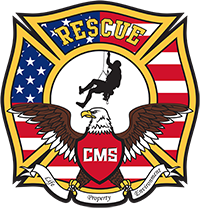 Due to the level of training and rescue equipment brought to each job site by CMS, our working crew can double as a standby rescue team. For example, our employees receive extensive training in confined space rescue as well as high angle rescue. We can even augment plant or contractor safety needs that may arise during an outage. Look to CMS first when you need a maintenance or construction safety staffing firm.
In many cases, OSHA requires host employers to assign a standby rescue team to respond in the event of a confined space emergency. OSHA has also established challenging time parameters for the completion of rescue operations for permit required confined spaces. Complying with these timelines can be difficult where a local fire department or, even in-house rescue team, is designated as the standby responders.
Hiring an outside professional rescue team can represent one manner to help ensure the availability of competent rescuers but their expense often cost prohibitive.
CMS Rescue Teams provide highly trained and experience rescue personnel in an approach that actually helps reduce annual safety expenses. Every member of our Rescue Teams has been certified as an Emergency Rescue Technician (ERT) and have received a minimum of 86 hours of confined space rescue training. The ERT training includes high angle rescue, complex patient packaging, first aid, AED, incident command systems, and rapid intervention techniques. Most Team members have decades of experience acting as first responders or as professional rescuers and they train year round in confined space rescue operations.
Our Rescue Teams take an active role in assuring the safety of the confined space prior to entry. This includes providing a site specific hazard assessment, creating a rescue plan in advance of entry, and pre-staging essential emergency equipment. Through our processes and procedures, a rescue operation begins almost as soon as an emergency develops. Our preparation can be the defining difference between a rescue rather than recovery operation.
Benefits of CMS Rescue Teams:
Highly trained rescue personnel
Active participation in site evaluations
Rapid emergency response
Zero gaps in compliance documentation
Reduced safety expenses