Confined Space Safety Services
Confined Space Safety Services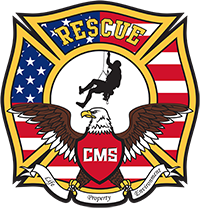 CMS repair crews participate in comprehensive and specialized confined space safety training before they ever work on a job site. In fact, we are the only tubular air heater inspection and repair contractor in the U.S. that offers NFPA 1007 and 1670 worker-to-rescue training certification. All of our employees are Confined Space Rescue Trained (NFPA 1670 and 1006, OSHA 29 CFR 1910.134, ANSI Z 117.1) and have received a minimum of 86 hours of hands-on confined space rescue training using a full-scale permit-required confined space simulator.
CMS has taken an industry-leading approach to training and qualifying confined space attendants (CSAs). Each CSA is certified as an Emergency Rescue Technician (ERT). The ERT training includes advanced confined space rescue techniques/operations, Incident Command System (ICS), supplied air respirators (SAR), self-contained breathing apparatus (SCBA), rapid intervention team (RIT) operations, complex patient packaging techniques, first-aid, CPR, and AED. Rescue training even includes advanced high angle rope rescue techniques for complex operations. Many of our confined space attendants are former or current firefighters, who have extensive rescue training and real-world experience.
Where a confined space is classified as permit required, OSHA requires that a confined space attendant (CSA) be stationed near the space during any entry. The CSA is responsible for ensuring that conditions inside the permit required space comply with OSHA regulations and that necessary precautions have been taken to minimize the likelihood of a workplace injury.
A CSA must not only recognize hazards present but possess the skill and training to needed to implement preventative safety measures and use advanced equipment. Unfortunately, many CSAs have received little training their inexperience sets the table for avoidable work place injuries and accidents to take place.
At CMS, all of our CSA have been certified as Confined Space Rescue Technicians (CSRT) through an intense and rigorous training program based on NFPA and OSHA guidelines. CMS Rescue training includes high angle rescue, advanced rope ripping systems, non-entry rescue techniques, atmospheric monitoring, AED, first aid, and complex patient packaging.
The CMS Process Safety Management System also allows our CSRTs to quickly generate site specific hazard assessments, rescue plans, and the system helps ensure that there are zero gaps in compliance.
Benefits of staffing CMS Confined Space Rescue Technician:
Site specific hazard assessments
Zero gaps in compliance documentation
Seamless communication
Highly qualified safety and rescue personnel